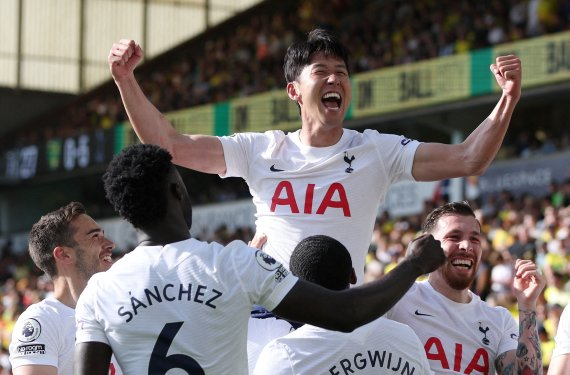 Son Heung-min has been named the "greatest of all time.
British media outlet 90min released a list of the top 50 best Premier League (PL) players of all time on its official account on April 18 (KST).
At the top of the list was Thierry Henry. At the height of Arsenal's glory days, Henri scored 228 goals in the PL alone, making him the most prolific foreign goal scorer of all time before Sergio Aguero. He led Arsenal to an unbeaten league title in 2003-04, and in 2002-03 he recorded the only 20-goal, 20-assist season in the PL.
In second place is Cristiano Ronaldo. He's done more with Real Madrid than Manchester United, but his record at United is hard to beat. In the 2007-08 season, he scored 31 goals in the league alone and won the Ballon d'Or.
In third place was Alan Shearer, the "all-time leading scorer," and in fourth place was Wayne Rooney, who, along with Ronaldo, has become synonymous with the club. Kevin De Bruyne, Dennis Bergkamp, Mohamed Salah, Eden Hazard, Ryan Giggs, Harry Kane, and others who represented the PL also made the list.
South Korea's "Captain" Son Heung-min made the list. He was ranked 50th, behind Edwin van der Sar (47th), Ian Wright (48th), and David Ginola (49th).
No mean feat. Of those 50 players, only Son Heung-min, De Bruyne, Salah, and Virgil van Dijk are still playing in the PL today. Even if we expanded the list to include active players, it wouldn't be more than 20.
That's a pretty good list, and there's room to go even higher. Son joined Tottenham in 2015-16 and is currently 26th on the all-time goalscoring list with 111 goals in the PL alone. This season, he has transformed into a 'top' striker and has already scored eight league goals. Given his current form and the length of his contract, he could easily surpass Jimmy Floyd Hasselbaink (127 goals) in 16th place.