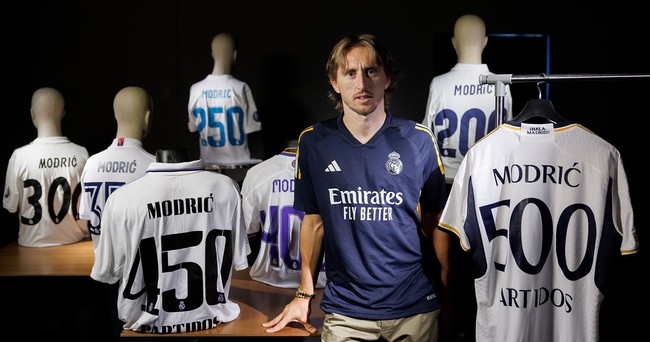 For Luka Modric, 38, Real Madrid is 'everything'.
Real Madrid published an interview with Modric on the club's website on Monday (June 18). In the photo, Modric is surrounded by jerseys bearing the numbers 200, 250, 300, 350, 400, 450, and 500.
Modric recently celebrated his 500th match for Real in the El Clasico against Barcelona. Since arriving in a Real shirt in the summer of 2012, Modric's consistent performances each season have earned him a place in the manager's team. Now in his 12th season, he's reached an impressive 500 appearances.
Modric said: "Real is everything to me. It's part of my life, it's my family, it's a way of life. I was born in Croatia, but I've been here for 11 years and I feel like I'm at home. I'm grateful for everything I'm experiencing at the best club in the history of football."
As for his 500th appearance: "I don't know what to say because it's unbelievable. Reaching this milestone is incredible. 500 games for Real is something that only a few players have achieved. I'm proud to be one of those few. Apart from all the awards and trophies, the most important thing was the recognition of the Real fans, who always supported me. The love I feel every time I set foot in the Santiago Bernabeu makes me very happy, so I've always tried to repay them by giving my best."
Modric has always expressed his love for Real throughout his career. "I'm happy and satisfied at Real and I don't think about anything else," he recently told Croatian media. I just want to enjoy my football and every moment at Real," he said in a recent interview with Croatian media, ruling out a move to Saudi Arabia.
He even dreams of retiring with Real. "I want to retire at Real, I've said it many times. Nothing is 100%, but that's my idea, that's my dream," he said.
Modric's current contract expires in June 2024. This season, he's been pushed out of the starting lineup and hasn't been performing like he used to. There is a lot of speculation about his future and whether or not he will get the 'Real retirement' he wants.